About Us
UConn School of Medicine, part of the University of Connecticut (UConn), was established in 1961 on the then new 160-acre campus in Farmington. It admitted its first class in 1968 and granted its first medical degrees in 1972.
The medical school and its faculty's teaching, clinical care, and research fuel UConn Health, Connecticut's only public academic medical center. Today's 206-acre UConn Health campus is located approximately 38 miles from UConn's main campus in Storrs and 8 miles from the state capital in Hartford.
The medical school's advanced MDelta curriculum, implemented in 2016, employs team-based learning instruction and is focused on shaping and refining students' problem-solving, diagnostic, and treatment skills. Humanism in medicine and the health systems sciences are integral components of MDelta.
For nearly 50 years, the UConn medical school has had a strong history of producing the next generation of physicians, and UConn overall has a proud 130 year history and is among the top public universities in the nation.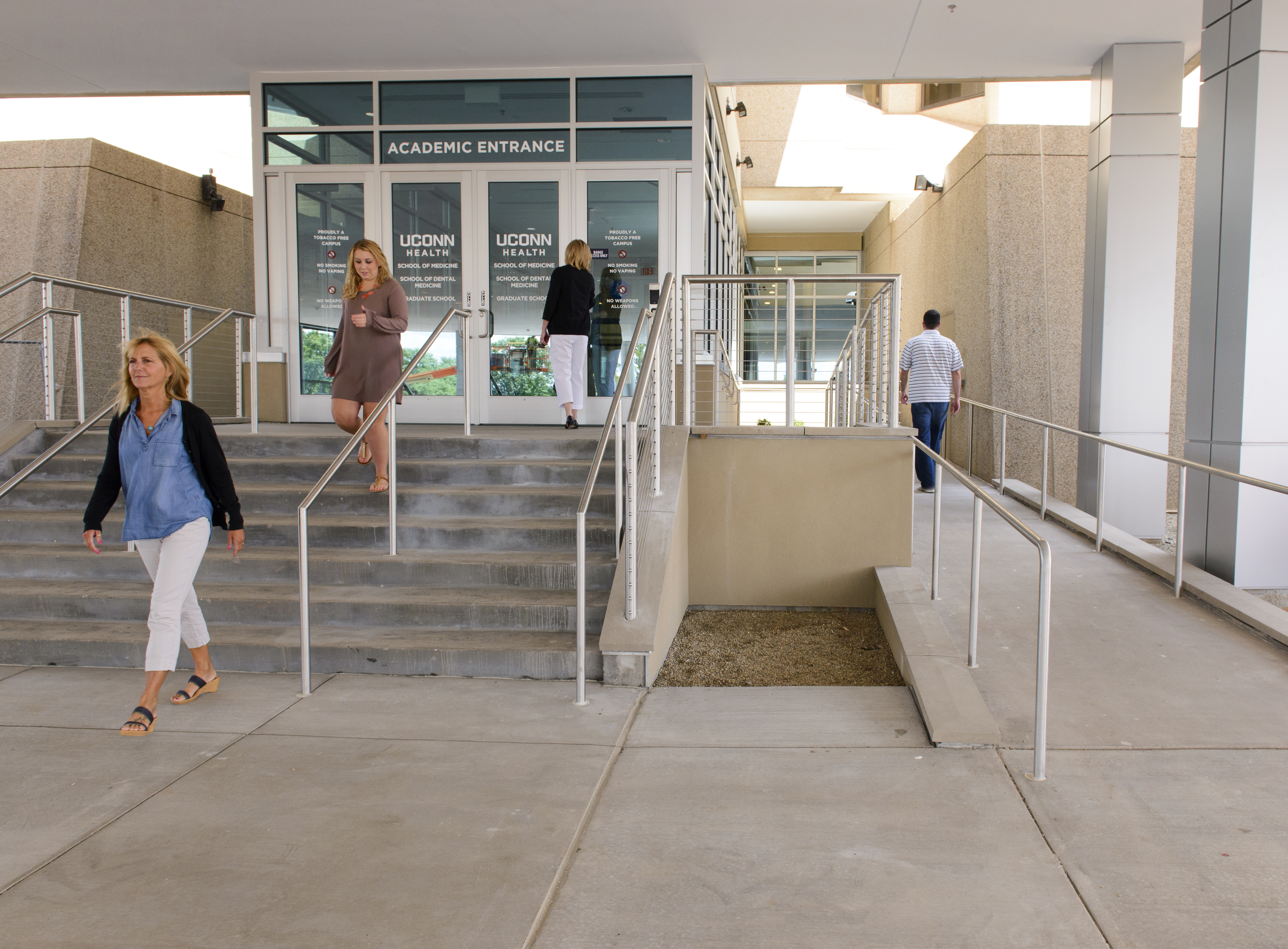 Mission
The primary mission of the UConn School of Medicine is innovation, discovery, education and service.
The school trains the next generation of medical students, residents, specialty fellows, and clinical practitioners in an environment of exemplary patient care, research, and public service. The School of Medicine's mission is reflected in its programs, which incorporate four basic interrelated goals:
to advance knowledge through basic, biomedical, clinical, translational, behavioral, and social research;
to provide educational opportunities for Connecticut and U.S. residents pursuing careers in the patient care professions, education, public health, biomedical and/or behavioral sciences;
to develop, demonstrate, and deliver health care services based on effectiveness, efficiency, and the application of the latest advances in clinical, translational and health care research;
to help health care professionals maintain their competence through continuing education programs.
Vision
The vision of the School of Medicine is "excellent care through research, education, and engagement". Scientifically adept and empathetic physicians provide the best care because of the skills and best-practice management they provide.
Research, the discovery of new knowledge, is a key component of our physicians, as we believe physicians are scientists. Physicians need to appreciate the art of practicing medicine.
Education of physicians is our reason for being. The educational experience in the SOM is both student- and patient-centered. Students meet their first patient on the first day of school and are involved in longitudinal care of patients with a primary care physician with half-day sessions in a community practice. Our curriculum is designed to produce physicians dedicated to superior patient care, service to community, and scientific inquiry.
Engagement, the understanding of diversity and inclusion, lies at the heart of empathy. Empathy and understanding the cultural background of individuals is important for physicians. Students are admitted not just on their academic standing, but also on their extracurricular activities and achievements. The practice of medicine needs skilled, well-rounded physicians who can relate to their patients, not just as practitioners and caregivers, but also as people.
Educational Philosophy
The School of Medicine is devoted to demanding excellence while nurturing students. Careful cultivation begins with admission, through the enrollment process, and continues through the entire medical school experience. Faculty and residents play vital roles as teachers, mentors, guides, advisors, and colleagues.
The mission of our new MDelta curriculum, which began in August 2016, is to inspire and prepare physicians who embrace scientific advances, provide exceptional clinical care for patients and communities, become outstanding teachers, contribute to new knowledge about health and disease, and participate in scholarly activities throughout their lives. Our graduates will work with others to teach, practice, and serve to improve health and health care systems, all while making a difference in the lives of individuals.