The Future of Health Care Starts Here.
UConn is Connecticut's No. 1 producer of medical and dental professionals. In fact, UConn is the largest single source of new physicians, surgeons, and dentists for the state. We are also a significant source of trained scientists and public health experts.
The health of Connecticut is our business.
Community Impact
Since 1972, the UConn School of Medicine, UConn School of Dental Medicine, and the biomedical and public health programs of the UConn Graduate School have supported Connecticut's health care needs by:
Building tomorrow's workforce by educating and training the next generation of health care professionals
Diversifying the future health care workforce
Igniting the interest of Connecticut youth in health fields via early health career education programs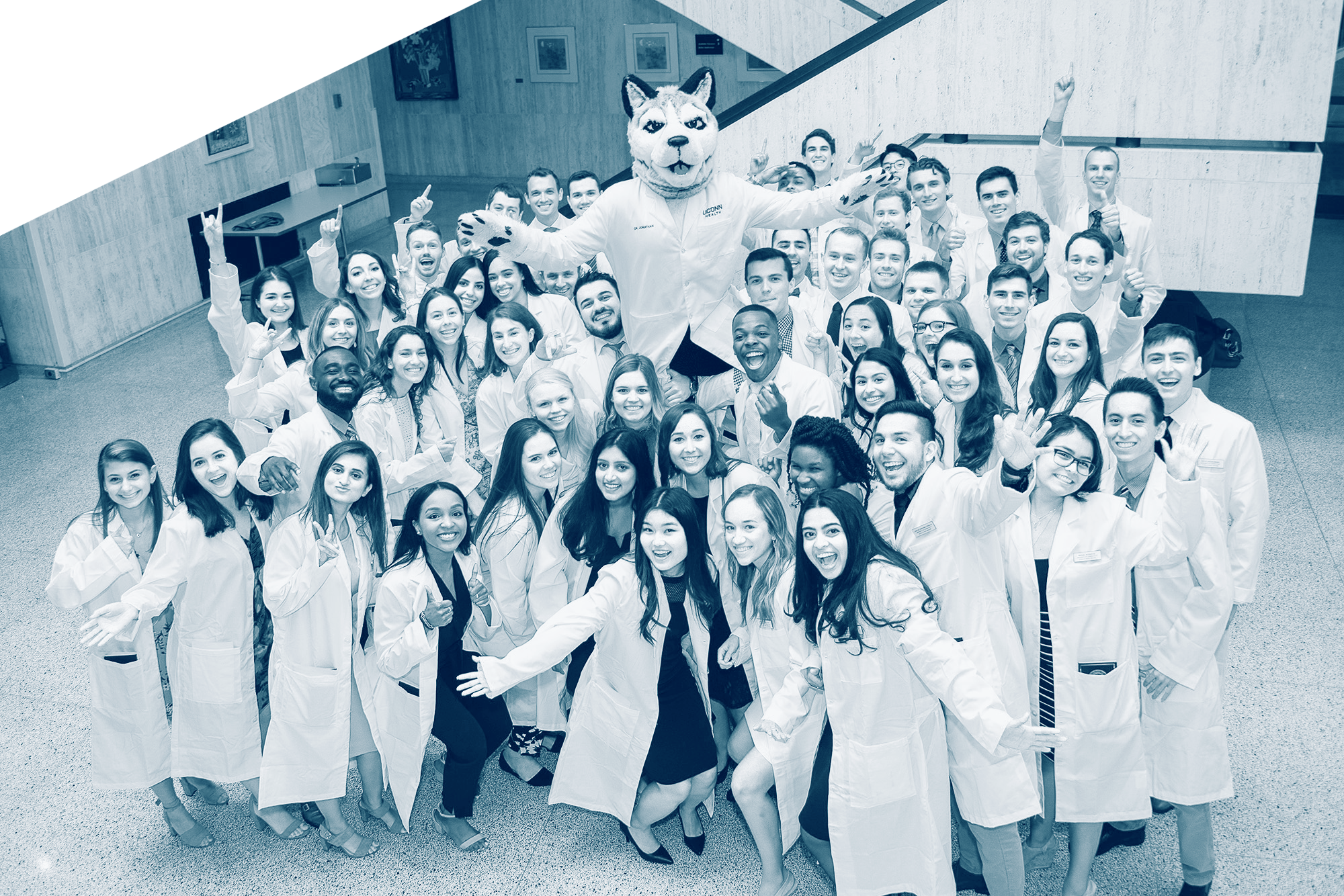 Together, they have produced:
5,700+ medical and dental school graduates
8,000+ medical and dental residents
Nearly 2,000 scientists and public health experts
725
medical residents and fellows
110
dental resident trainees
100
post-doctoral fellows
100
Master's in Public Health students
Since 1972, our programs have proudly produced:
4,087
physicians with medical degrees
1,945
dentists with doctorate of dental medicine
1,000+
trained public health experts with MPH degrees
700+
trained scientists with Ph.D.s in the biomedical sciences
Workforce Impact
UConn-produced doctors and trainees continue to make their mark on the communities they serve – many right here in Connecticut.
70%
of UConn School of Medicine graduates practice medicine or serve as resident physicians in Connecticut.
60%
of all Connecticut pediatricians are UConn medical school graduates or trainees.
50%+
of Connecticut's practicing dentists are UConn School of Dental Medicine alumni.
30%
growth of medical and dental school class sizes thanks to Bioscience CT.
25%
of Connecticut's practicing physicians were trained at UConn.
Celebrating 50 Years of UConn Health Creating the Future Health Care Workforce
School of Medicine Primary Care Incentive Program
School of Medicine Discovery Fellowship Fund
CLIC Program - Cornerstone of the Curriculum
Residency Programs Provide Critical Care & Staffing
Medical and dental residents and fellows receive advanced clinical training through the UConn School of Medicine and School of Dental Medicine.
Our medical residents provide critical health care and staffing resources for UConn John Dempsey Hospital, six affiliated hospitals in the Greater Hartford area, and other community facilities and programs.
The School of Dental Medicine and its residents are the largest single provider of emergency dental care, care for the underserved, and care of individuals with acquired and developmental disabilities by partnering with community sites.
"It is a privilege to lead the training of the next generation of physicians for the state of Connecticut and the nation. To do this at my very own medical school and where I trained in residency makes it even better. Our robust residency and fellowship programs are a true testament to UConn's success."
Dr. Kiki Nissen
Senior Associate Dean for Faculty Affairs
Associate Dean for Graduate Medical Education