Student Events
Orientation
Orientation activities for first-year medical students take place over several days. Students are brought together to meet their peers and to hear an overview of the class demographics. This is a joint session where the medical and dental students share a common basic science curriculum for the first two years. Separate orientation activities continue thereafter.
White Coat Ceremony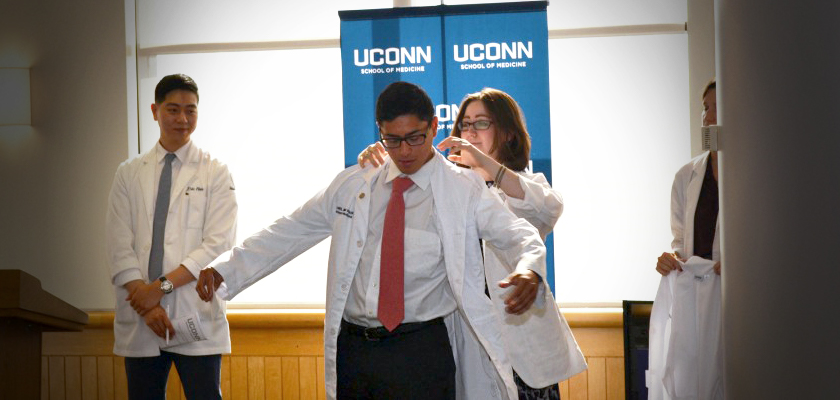 After years of basic science classes, research, and shadowing experiences, the dream of becoming a physician is made tangible at the White Coat Ceremony. Each year during orientation, entering medical students are honored with their first white coat. The ceremony is an exciting time that commences the student's journey towards becoming a physician.
The culture of the UConn School of Medicine is put on full display at this ceremony. We believe that the person to your right will be your family practitioner, and the person to your left will be your surgeon. This culture of collegiality holds true throughout the four years of medical school, allowing for students to get the most out of their medical school education both personally and professionally.
Convocation
A Convocation in honor of the entering classes has been held at the beginning of each academic year since 1985. The dual theme of Convocation is the importance of viewing medicine and dentistry as vocations of service to others, and the need for physicians and dentists to maintain their interest and activity beyond the health care sciences to assure a sense of balance and perspective in their personal and professional lives.
The Convocation is named in honor of Joseph M. Healey, Jr., J.D., Professor of Health Law and Ethics. Professor Healey was a major contributor to many of the University's most cherished traditions, chief among them was his role in creating and chairing the annual Convocation ceremony. His untimely death in 1993 represented the loss of a significant spiritual leader at UConn. Professor Healey's positive influence on the ethical and professional conduct of countless students and colleagues has been immeasurable.
Winter Formal
Every February, the medical school sponsors a formal dance and dinner. For the past few years, it has been held at the Riverview in Simsbury.
Ski Trip
Every March, the Medical/Dental Student Government sponsors a ski trip to Mt. Snow in Vermont. This weekend provides a great opportunity to take a break from studying and enjoy some powder.
Culture Shock
Each year, members of our medical school celebrate the diversity of our community in an event known as "Culture Shock." The event is hosted by the Student National Medical Association (SNMA), a student organization committed to addressing the needs of underserved communities and increasing the number of clinically excellent, culturally competent, and socially conscious physicians.
Culture Shock commences with a meal of ethnic foods provided by local restaurants and donated by individuals from the UConn community. Foods from a variety of cultures are represented including: Mexican, Japanese, Jamaican, Chinese, Peruvian, Thai, and Indian. After a delicious dinner, students share their talents through poetry, dance, and song. Past performances have included traditional Chinese dance, original poetry, Egyptian dance, and musical performances. Before the event, raffle tickets are sold to support a charity of the group's choice.
South Park 5K Road Race
UConn medical students organize and run a number of primary care clinics to provide essential medical care to the uninsured and homeless in the area. One of these clinics, The South Park Inn Medical Clinic, provides care to the homeless residents of the South Park Inn Shelter. Each year, students organize a 5K road race at UConn Health in order to raise money to support the clinic.
Wellness Retreat
The medical school sponsors a number of events to promote the personal growth, development and well-being of our students. One example of this is Wellness Retreat at Kripalu Center for Yoga and Health. This three day experience consists of hands-on educational sessions on nutrition, stress reduction, and integrative medicine. It offers students the opportunity to reflect on their journey through medical school, engage in self-care practices, and learn how to incorporate such skills into their lives as busy students and future physicians. The following is an example of the many positive comments that students expressed after their experience:
"I have a firmer understanding of nutrition, yoga, and the importance of self-care. This retreat has influenced the way I will care for patients and myself."
Commencement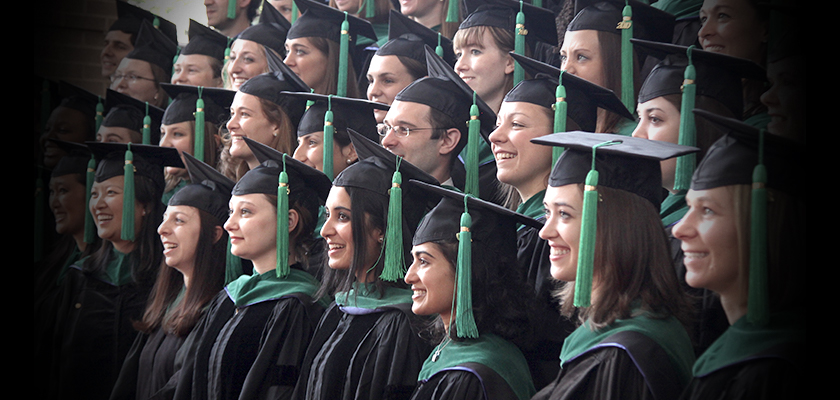 UConn Health traditionally holds its official commencement ceremony in May at the Jorgensen Center for the Performing Arts on the Storrs campus. For details on commencement, visit our Student Affairs website.
Coast to Coast Bike Trip
Each summer since 2005, rising second year medical students bicycle from the West Coast, San Francisco or Seattle to the Connecticut shore, riding nearly eighty miles each day. Their goal is to raise thousands of dollars for The Hole in the Wall Gang Camp. This organization was established by Paul Newman in 1988 to provide a camp experience to seriously ill children, free of charge. The Camp is located in Ashford, CT.
Gold Humanism Honor Society (GHHS)
The Arnold P. Gold Foundation advances humanism in medicine, perpetuating the tradition of the caring doctor. Through innovative medical education, they promote and affirm more compassionate care and caregivers. Established by the Gold Foundation in 2001, the Gold Humanism Honor Society "honors senior medical students, residents, role-model physician teachers, and other exemplars recognized for demonstrated excellence in clinical care, leadership, compassion, and dedication to service."
This honor society was organized to elevate the values of humanism and professionalism (including attributes of integrity, excellence, compassion, altruism, respect, empathy, and service) within the field of medicine. In October 2009, the inaugural class of the UConn Chapter of the GHHS was inducted.